Landscape Contractor in Carrollton, OH
Gotch & Company, Inc. is a family-owned, community-oriented business providing high-quality landscaping and property maintenance services in and around Carroll County, Ohio. Our landscaping company offers a comprehensive scope of land care services, ranging from winter snow removal & snow plowing to summer yard maintenance. Let us help you keep your property pristine!
In addition to these services well also offer landscaping materials in bulk including limestone gravel, limestone base material, sand, mulch, stone, brick, block flagstone, and sandstone. For commercial businesses and companies in the oilfield & gas field industries our Hotshot Flatbed Transportation Service provides expedited freight delivery on our flatbed trailer.
Complete Lawn Services, All Year Long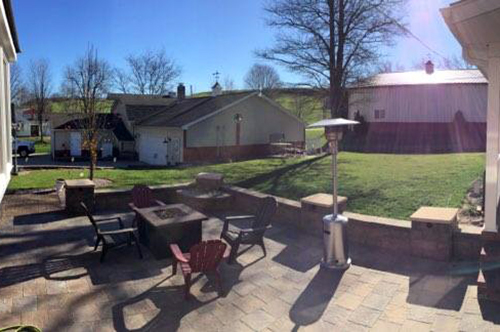 Gotch & Company, Inc. has been providing residents of Carroll County, OH and its surrounding communities with holistic property maintenance services since 1984. We tailor our complete range of landscaping company services around the needs of each customer, ensuring every property is getting exactly what it needs to look beautiful and stay kempt. Our landscape contractors offer everything from parking lot salting to lawn service in Carrollton, Wyncrest, Harlem Springs, New Harrisburg, and Carroll County, OH, serving you in any season. And, boasting more than 35 years of industry experience, we bring an old-fashioned work ethic and intensive attention to detail with us to each jobsite. Our lawn care company consistently strives to do right by our clients and provide them with stunning outdoor spaces that they love!
Gotch & Company, Inc. implements a number of practices that demonstrate our company's dedication to your property. For example, we only use nursery-grade plant materials and lay gravel surfaces with a spreader box, ensuring an even surface. It's these minor details that add up to polished landscapes. Beyond delivering exceptional service, we maintain strong ties with the Carrollton business community and belong to a number of landscaping associations, including the Ohio Lawn Care Association (OLCA) and the Ohio Landscape and Nursery Association (OLNA). Need more reasons to choose us as your landscape contractor in Carrollton, OH? Take a look at why our clients love us:

Our company offers holistic landscaping installation and care, tending to every single need your property has, both individually and as a whole.

We only use nursery-grade plant materials to ensure beautiful, lush results and healthy, happy plants on your landscape.

Our landscaping company performs custom hardscaping services and more to blend the natural beauty of your property with man-made, practical installations.

We belong to both the OLCA and the OLNA, showcasing our steadfast commitment to being a leader as a lawn care company.

We offer year-round landscaping services. Turn to us for lawn and garden service in the summer, as well as snow removal and de-icing in the winter months.
Elevate Your Outdoors
To make the most of your property's outdoor space, schedule an appointment with our landscape contractor today! We offer free estimates on all of the lawn services we provide.
Proudly Providing Lawn Services to the Following Areas:
Carroll County, OH
Jefferson County, OH
Stark County, OH
Harrison County, OH
Carrollton, OH
Lisbon, OH
Steubenville, OH
Canton, OH
Columbiana County, OH
Tuscarawas County, OH
Mahoning County, OH
Cadiz, OH
New Philadelphia, OH
Youngstown, OH